As the COP15 talks in Copenhagen get underway, this interesting video has surfaced. It's staged, of course, but imagine how different the world would be if the leaders of oil rich countries had the guts, the honesty, and the integrity to actually step forward and make a commitment to alter the course of history.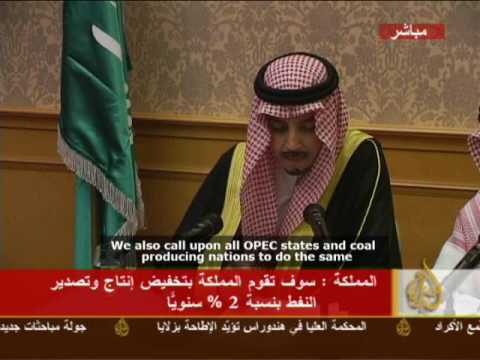 The United Nations Climate Change Conference is being held
from December 7th to 18th, 2009 in Copenhagen.
Historical Reference

With mounting evidence that rising levels of CO2 in the atmosphere had the potential to affect the earth's weather, the United Nations General Assembly decided in 1990 to start work on a climate change convention. These efforts resulted in 154 countries signing the United Nations Framework Climate Change Convention (UNFCCC) at the UN Summit in Rio de Janeiro in 1992. Since that time, some 193 countries, including the USA, have ratified the convention.
The goals of the climate change convention are to stabilize the amount of greenhouse gases in the atmosphere at a level that prevents dangerous man-made climate changes.
The Intergovernmental Panel on Climate Change (IPCC) was created in 1988 by the special UN organizations for environment (UNEP) and meteorology (WMO), following the Brundtland Report – "Our Common Future".
The first working group evaluates literature in natural science about climate and climate change.
The second is concerned with the consequences of climate change, and the potential for adapting to them.
The third working group evaluates the potential for reducing the planet's emissions of greenhouse gases.
The Task Force is responsible for the National Greenhouse Gas Inventories Program.
The IPCC has published four Assessment Reports (in 1990, 1995, 2001 and 2007). Each Assessment Report consists of contributions from the three working groups and a Synthesis Report.
IPCC Mandate
The IPCC was established to provide the decision-makers and others interested in climate change with an objective source of information about climate change. The IPCC does not conduct research, nor does it monitor climate related data or parameters.
Its role is to assess on a comprehensive, objective, open and transparent basis the latest scientific, technical and socio-economic literature produced worldwide relevant to the understanding of the risk of human-induced climate change, its observed and projected impacts and options for adaptation and mitigation.
IPCC reports should be neutral with respect to policy, although they need to deal objectively with policy relevant scientific, technical and socio economic factors. They should be of high scientific and technical standards, and aim to reflect a range of views, expertise and wide geographical coverage.
You are encouraged to conduct your own research on the organizations listed above, their methodologies and published findings. This is a very complicated subject, and one that changes frequently as new data is introduced, but the importance of this topic cannot be understated, as the health and well-being of the planet is at stake.