I first connected with Opportunity International in 2009, during the South by Southwest Conference in Austin, TX, and appreciated their work with microfinance, as well as their vision of a world in which everyone has the opportunity to provide for their families and build a fulfilling life.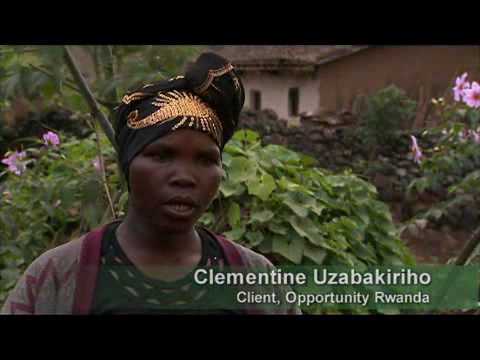 I recently had the opportunity to speak with Ian Haisley, the Online Communications Manager at Opportunity International, about their latest efforts to improve the lives of people who are in dire in need of basic banking services.
Sub-Saharan Entrepreneurship
In February of 2010 Opportunity International announced a new $16 million program co-funded by the Bill & Melinda Gates Foundation and The MasterCard Foundation.  The focus of the program is to provide access to savings accounts and agricultural loans in rural areas of sub-Saharan Africa, a region where less than 10 percent of the people have access to comprehensive financial services.
To reach both agricultural and non-agricultural borrowers and savers in rural markets, Opportunity will deploy a range of cost-effective delivery channels, including satellite branches, kiosks, mobile vans, ATMs and point-of-sale devices to expand the number of banking outlets.
For Lucas Chingore of Mozambique, the small, fertile plot of land he yearned to farm was just outside of town, but entirely out of reach. "It was too dangerous to be there during the civil war," says Lucas, "and when the violence ended, I couldn't afford the tools and seed to get started."
Finally, he found Opportunity International and his farm took root. He received a loan for an irrigation pump that brought precious water to his crops and greatly enhanced yield. Another loan allowed him to diversify into poultry so that hundreds of chickens now populate his fields. And he opened an Opportunity savings account to protect his business profits and earn interest.
Making Technology Effective
Opportunity International takes full advantage of the latest computer technology in their fight against poverty. Over the last 10 years they have spent more than $20 million to implement electronic and mobile technologies.  This approach has the effect of reducing transaction costs and bringing services to remote clients.
Smart Cards, using biometric technology, provide convenient and secure access to finances, even for those who are illiterate or lack formal identification.  In addition, new technologies will use cell phones, and satellite and broadband Internet to further increase Opportunity's reach into remote areas.
"Access to savings accounts and other financial services help poor people manage life's risks and take advantage of life's opportunities," said Tamara Cook, program officer for the Financial Services for the Poor initiative at the Bill & Melinda Gates Foundation. "Opportunity International is creating new, sustainable business models and scaling up its programs, helping bring financial security to more people in Africa."
Opportunity International is enhancing the lives of thousands!